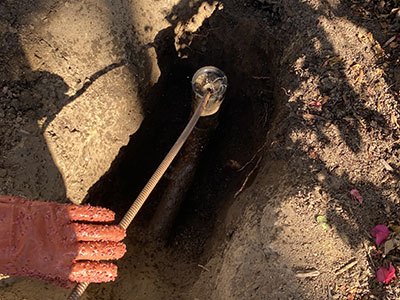 When you've got a blockage or clog in your plumbing system, you need dependable and effective rooter plumbing in San Jose, CA. Our rooter services are on hand 24 hours a day, and our plumbers are experts in clearing stubborn clogs and moving your plumbing. From snaking your kitchen drain to dealing with tree roots further along in your system, we'll find the blockage and deal with it once and for all. The first you might know about a backup is that your water is going nowhere. That might be from your sinks, shower, or, even worse, toilet! These problems are often unpleasant and need to be dealt with right away. Fortunately, our team is on hand with rooter services that quickly get the job turned around.
Most of us probably don't spend much time thinking about our sewer and drainpipes. Tree roots, debris, corrosion, leaking joints, and other issues can damage plumbing systems. It's all good until it's not. But never fear, Plumbtree Plumbing & Rooter technicians are equipped with the latest and most effective rooter equipment to get your drains flowing again.
Affordable Rooter Plumbing in San Jose
Your plumbing works hard day in and day out. When a blockage occurs, it can often stop many plumbing systems in their tracks. From your shower to your toilet and even your appliances, jams can cause problems in these areas. Rooter Plumbing in San Jose is the solution that will have your blockage clear in no time. From too much toilet paper in your waste pipe to grease that has blocked up your kitchen drain, our team is familiar with every problem and how to solve them. We'll get to work the moment we arrive at your home and keep you informed every step of the way. We'll also ensure we work with great care and respect for your home and your time. You can depend on us to clear up your firm ETA once we are done.
Here are some signs that you may need to hire our rooter services:
Gurgling sounds from your sinks or drains
Slow draining showers or sinks
Sewage odors around your home
Water pooling around your drains
The Best Rooter Services in San Jose
We've invested in some of the best rooter equipment, and our team has received the highest standard in training. Their on-the-job experience on hundreds of call-outs also means they can get to work when they arrive at your home. Call the team at Plumbtree Plumbing & Rooter now to arrange a convenient appointment.
Contacting Plumbtree Plumbing & Rooter for professional rooter plumbing is one of the best decisions you can make for your drains. DIY methods of unblocking gutters can be messy, a hazard to your health, and often ineffective. It would be best if you had a team that would arrive quickly to care for your drainage problem in no time. With our rooter services just around the corner, you can resolve your issue quickly and return to your routine. Taking immediate action when you spot a problem will help clear your plumbing and protect your drainage system from extensive damage. Over time, the build-up of waste and water could weaken your drains and pipework, resulting in more work and a higher bill. Our team is here to solve any drainage problem you have, and we'll get to you fast.
Call us today to schedule your next plumbing service in the San Jose, CA area.