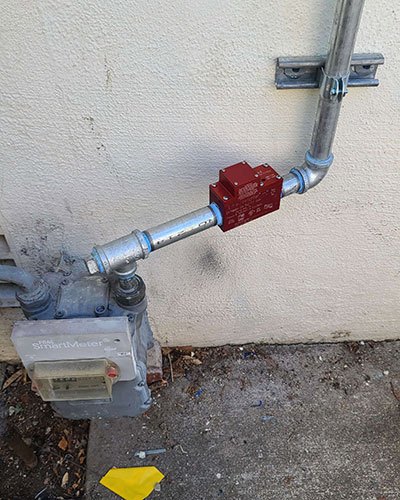 In San Jose, earthquakes are common and have damaged thousands of homes. The situation gets even more dangerous if the earthquake breaks or cracks your natural gas line. Installing an earthquake shutoff valve could save your life and keep your home safe. This component is designed to shut off the gas supply and prevent leakage during disasters.
At Plumbtree Plumbing & Rooter, we specialize in earthquake gas shutoff valves in San Jose, CA. As most residents know, we're sitting on three connected faults that significantly raise our risk of earthquakes. While there's nothing you can do to stop earthquakes, there are precautions you can take around your home to reduce the risk that they pose to your family. Shut off valve installation is one of them. These systems, as their name suggests, are designed to automatically shut off the gas supply in the event of seismic activity and could save your life. Don't wait for disaster to strike when you can arrange shut off valve installation today. Our systems are some of the best available to homeowners today and will give you peace of mind that the gas will be shut off instantly should an earthquake occur. Call our team today to find out more.
Reliable Earthquake Gas Shutoff Valves in San Jose
When you need earthquake gas shutoff valves in San Jose, you can trust the team at Plumbtree Plumbing & Rooter to give you the best service and total reassurance. One of the most dangerous consequences of an earthquake is a gas leak in the home. It's critical that you have a system in place that eliminates this risk and protects you and your family. We offer a range of shutoff valves designed to give you complete peace of mind in the face of disaster. These systems are easy to install and maintain and once installed will be primed and ready to activate when required. Your safety is our utmost priority. We'll make sure your shut off valve installation is completed to the very highest standard. Whether you have old shutoff valves that need replacing or you're arranging installation, we're here to help.
Here are just some of the benefits of shut off valve installation:
Gas is turned off in the event of seismic activity
Reduces the risk of leaks, fire and explosion
Peace of mind
Protect your home and family
Call Plumbtree Plumbing & Rooter today to schedule professional service for any gas issue or plumbing need in the San Jose, CA area.
Local Team for Shut Off Valve Installation in San Jose
At Plumbtree Plumbing & Rooter, we're your friendly neighborhood plumbing company and we'll stop at nothing to keep your home safe in the event of an earthquake. We hope that you'll never need to depend on your earthquake gas shutoff valves, but if you do, it's good to know they will activate the moment they are required. We've chosen some of the most reliable state-of-the-art systems and our plumbers will ensure your valves are installed with great care. We also offer maintenance services for your valves, so please call if you already have them installed and need assistance.
The installation of these safety systems could be all that stands between your home and major devastation. Don't take the risk. Make provisions today to protect your home with some of the best systems on the market today. We've been offering great services throughout the region for years and we're proud to be a BBB-accredited business.
Call the team here at Plumbtree Plumbing & Rooter today to discover more about our earthquake gas shutoff valves in San Jose and we'll arrange for one of our experts to visit your home!